Recent Projects
Norton Atlas Engine
750 Norton Atlas: This engine came to us in boxes where it had been for 10 or so years, we bored cylinders, repaired a bad exhaust thread in the head, glyptoled the cases to improve oil tightness, surface treated all cases and covers, dressed all engine cover mating surfaces on a granite surface plate to ensure flatness. Made some timing chest parts that were missing. Sourced a crankshaft and camshaft, had the rotating assembly balanced, Installed mag ignition and completed assembly to make it ready to install. The result is a very smooth Running very rideable vintage bike.






BMW R60/2
1964 BMW R60 This project came to us with the engine cases and transmission assembled. The rest of the bike was in boxes and had been for about 30 years. We installed the top end and resurfaced the rockers as they were badly chipped. Fitted a 12V alternator system, New wire harness refurbished switchgear, solo seat replaced and shimmed the wheel bearings swingarm bearings etc. I must say the 12 volt conversion makes for a very rideable bike with enough charging system to run heated clothing for both rider and passenger or sidecar occupant should that happen in future. Our painter put on the beautiful cream with black stripe resulting in a striking example of a vintage BMW.






Honda GL1000 Goldwing "Fuely"
1977 GL1000 Goldwing: This is a bike I was building for myself, (I've always thought the early wings were very cool bikes, more sport than touring for the time) and was waiting for some spare time when the new owner decided it was going to be his! It has a Race Tech emulator front end, Ikon rear shocks, a corbin seat, Fuel injection and just over 30,000 miles. I bought this bike after it had been unused for about 5 years, the tank got lined, timing belts, water pump, tires, replaced. Brake calipers got stripped and rebuilt, master cylinders rebuilt, all original lights and rear bar sourced and reinstalled and the carbs cleaned and rebuilt, it ran beautifully. It was after it sat for about a month and I went to ride it that I decided it was going to get fuel injection, it ran poorly for about 100Km then cleand up and ran well but this was the case every time it sat... soooooo. I sourced a set of 2001 GSXR600 throttle bodies because they fit in the original manifolds, the linkage had to be widened to accomodate the wider manifold spacing of the GL as did the fuel rail. I fabricated a fuel delivery manifold and a Honda Civic fuel pump went into the tank through the fuel sending unit port. The fuel returns through a custom fitting where the fuel tap was originally. I drew up and has water jet cut a plenum (shown below) that allows the use of the stock air box and filter. a wideband o2 and a microsquirt controller make it all work. I opted for dyna S Ignition with Dyna coils as I've used them on other projects and had great results. So far we're at 56Mpg and tuning, the goal is 60Mpg .





Kawasaki KZ900
This bike came to me complete but the owner had a vision! So we stretched and lowered it. It got Speed Hut GPS instruments Race Tech Suspension up front and Ikons on the back, 17 inch wheels from a ZX6 and the ZX6 brakes on the rear and period looking double discs up front. The gauge cluster got lowered and radial master cylinders for brakes and the hydraulic clutch conversion. The swingarm is 2 inches longer And the exhaust got stretched 8 inches to make it look the part. The theme is semigloss so the engine got blacked out, all engine covers are done in a satin black powder coat, the exhaust is a satin ceramic coat. it's hard to see but there are ghost decals on the tank and side covers (we were able to highlight them courtesy of photo shop. All in all a nice package! Lots and lots of fab to make it all fit and work together.
Photo 3 is during mock-up, showing some of the machining required to align the drive, photo 4 is also during mock-up, showing the addition of the Tarrozi rear sets and the ZX6 rear master cylinder and the linkage required to operate it.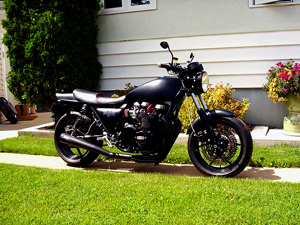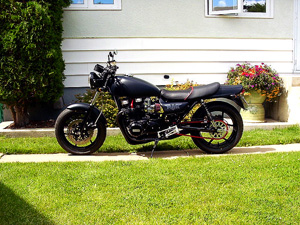 Ducati 900 SS motor
This ia a 1977 900SS Ducati motor that arrived on a pallet in 7 or 8 boxes, to be assessed, shimmed and reassembled. Without question one of the prettiest engines I've ever built. This engine is polished beyond what we would normally supply at the owners request, installation will be a challenge : )